USACH CANCH DKCH

Rosewood's U.S. Marshall

Bluemerle male

02.04.86 - 26.03.97

Pedigree
Marshall was bred by Rosemary Petter of Rosewood Shelties, USA.
Bianca Rosenkilde of Zarvo Shelties imported Marshall in 1990. He was already both an American and a Canadian champion. He added a Danish title very quickly and often placed as Best of Breed. He was the Sheltie of the Year in 1991.
For me, Marshall will always stand out as a very special dog. He is my mind's picture of superb movement and construction. The first time I saw him gaiting in the ring he just took my breath away and it was love from then on in. I will always be grateful that I was fortunate to see such beauty with my very own eyes.
Marshall was tested free from CEA and PRA. His hip status was A1.
Marshall is the maternal grandfather of Ronja (Zarvo's Reason to Rejoice), and the paternal grandfather and maternal great-grandfather of Breezy (Shetla's Boisterous Breeze).
Here is what some of the judges had to say about him:

04.11.90 Birgitta Svarstad, Sweden: 'Exceptionally well-moving sheltie, wonderful construction, perfect size'; awarding him his third certificate and Best of Breed.

09.03.91 Christine Aron, UK: 'Correct for size, good bone, well made with especially well-placed shoulder and nice reach of neck.'

09.06.91 Kari Nylén, Norway: 'Lovely masculine head with a beautiful expression and correct ears, good strong bone, good neck, lovely chest, good build and angulation, beautiful coat, moves beautifully'; awarding him Best of Breed.

17.08.91 J. Hayward, Australia: 'Nice head and expression, good ears, good coat, good colour, good build and good angulation, moves well, good temperament'; awarding him Best of Breed.

08.12.91 Charlotte Høier, Denmark: 'This dog doesn't trot, he floats. Anatomy of such quality that you would think the standard was written with this dog in mind. Words fail me to describe his construction. That his head is lacking in sweetness and is on the coarse side, is easily forgiven.'; awarding him Best of Breed.

---
Am/Can Ch Sundowner Mr. Bojangles CD ROM
Am/Can Ch Rosewood Texas Blue Horizons
Ch Forever Pawthorne Blue Eclipse
Am/Can Ch Rosewood's MT Blue Sheriff
Am/Can Ch Rosewood Pow-er Pumpkin
Rosewood's Satin Sassie
Shariton Jody's Lady Polite Am/Can CDX TD
Am/Can/DK Ch Rosewood U.S. Marshall
Ch Sea Haven The Sorcerer
Ch Sea Haven The Flying Dutchman
Am/Mex Ch Rosewood's Dutch Treat
Rosewood's Velvet Rose
Shawn Dar-Amstad Bi Partisan
Rosewood Mocha Merrilee
Rosewood's Make No Mistake
A very influential dog in Marshall's pedigree, contributing 2.63% to Marshall's total inbreeding coefficient of 7.19% and with a blood percent almost equivalent to that of a grandparent (24.41%), is CH Cherden Sock It To 'Em ROM, aka Pow. I was therefore thrilled to find a page all about him. The page is a tribute to Pow by Dana of Clan Duncan Shelties, who knew him in real life. It is so much fun to read about his personality and special quirks.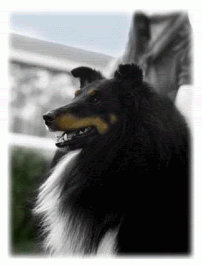 Photo by Dana Quinney of Clan Duncan Shelties
My Breezy has certainly inherited his love of water and of jumping up in the air.
---