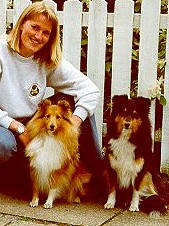 Nanna (that's me), Tilda & Ronja
Welcome!
My name is Nanna Holt Kjær. My mother and I co-own our kennel name, Shetla, which is registered with the Danish Kennel Club.

In all, my mother and I currently own seven shetland sheepdogs, all bitches. The dogs live with us in the house and are our pets. I have previously been very active in especially agility, but work has taken up too much energy for that the last couple years. So it is now the puppy buyers who represent Shetla in the agility rings. And they do it in style; I could not be more proud of them, and brag about them a lot on my blog (which is in Danish; but you might enjoy the videos and pictures). Each of our girls has her own page, see menu on the left for links.

We also enjoy the smiles on people's faces and their delight in meeting us on our daily walks. We love making good PR for our lovely breed. My mother lives in the northern suburbs of Copenhagen. I live on the island of Lolland in the southern part of Denmark.




On my breed info page you can read more about the Shetland Sheepdog: appearance, temperament and maintenance. There are also a few chosen quotes from books by famous Sheltie breeders.

I have written a little collection of short articles : the Shetland Sheepdog as a herding dog , keeping you dog fit and more.

Most of the articles were originally written for our club magazine. New ones are occasionally added.

Other special Shelties also have pages here. They are relatives and friends...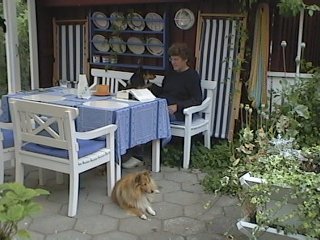 Peaceful bliss of summer in the yard