AG2 SP2

Shetla's Boisterous Breeze

Tricolour bitch

Born 26.09.98




Pedigree
Breezy is a home-bred daughter of Ronja . I am very pleased with her angulation, low hocks and absolutely super movement. This was exactly what I was hoping to get from this breeding. I think she has a wonderful overall shape. Notice the forechest, hindlegs, topline and neck - wanted qualities that can be difficult to find. Breezy is now the definite queen of my little pack. Truly majestic. In the photos above she is 9½ years old; nose has greyed a little, but otherwise still gorgeously jetblack and shiny.
Breezy is the result of linebreeding on USACH CANCH DKCH Rosewood's U.S. Marshall. I don't think I shall ever forget this boy's build and movement. He took my breath away. It gives me great pleasure to see it passed on to Breezy.
Breezy started her show career in conformation as a puppy, 4½ months old. Her first event was an open show where she won Best Baby In Show of all breeds. That was quite a day! The judge fell in love with her drive and angulation, just like me.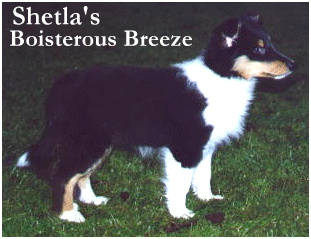 Breezy 3 months old
As an adult she is not likely to do any such winning in the conformation ring again: she is too big by the European standard. She has, however, received a nice critique and a 1st prize, and placed 4th in her class, aged 11 months, at the Danish Sheltie Club's Championship show.
I could tell already when she was a puppy that she would be very up-to-size and maybe over, but she had so many qualities that I had to keep her.
I sure am glad that I listened to my heart and held on to this special little dog, in spite of the worry about her size, because it turned out that she also possesses another rare quality: she has a strong herding instinct. At the age of 10 months she had her first encounter with sheep. She immediately balanced the sheep beautifully to me. I was absolutely ecstatic. Naturally these were very dog-broke sheep, as they should be when introducing a young or inexperienced dog to sheep. This means that the sheep bunch together nicely, will readily move for the dog and that they know that going to the handler provides safety. All of which makes it easier for the dog to balance the sheep. But even so, I have been told that to experience full instinct at the first exposure is rather special.
You can see photos of Breezy on sheep in connection with my short introduction to herding
Breezy when she was 2 years old
---
Tested for inheritable eye disease:
27.11.98, Vet Ib Engelhard: Breezy free from CEA (puppy - whole litter free).
13.06.01, Vet Mogens Aalund: Breezy free from CEA and PRA (adult).
10.05.05, Vet Mogens Aalund: Breezy distichiasis (otherwise free from inheritable eye disease)