LP1 LP2 BRGPR DKAGCH

Zarvo's Reason to Rejoice

Tricolour bitch

Born 01.06.93




Pedigree
Ronja was bred by Bianca Rosenkilde of Kennel Zarvo. Her qualities are apparent in the above photos: on the left, she is 8 years old; and on the right, 3 years old. Her pedigree is an exciting mixture of American, Anglo-Swedish and Anglo-Danish lines.
Ronja seems completely unmarked by age. Only a couple of weeks before her 8th birthday, she won agility class 3 for the third time and thereby earned her title of Danish agility champion.
Ronja is fabulous to work with. She is always eager and she learns very quickly. I think that of my bunch Ronja is the one who knows the most tricks and stuff just for amusement. She loves to help me empty the mailbox. She is in charge of further delivery to the rest of the household. She knows the names of us all. In fact, she even seems to know the names of the other dogs. I can ask her: "Where is Rea?" or Tosca etc, and she immediately shows me by going to them.
And her motoric skills never cease to amaze me. She never panics or "freezes" over slippery floors, steep staircases, heights or anything. One of her favourite games is tree climbing. - Yes, she does it all herself - No cheating!
Another unique thing about Ronja is the way she makes all kinds of little noises. She sort of answers. She especially does this when she is excited: greeting friends (dogs and people) and responding to questions or commands like: "Do you wanna work?", "Go give X a kiss" etc.
The noises are a strange mixture of small howls and a growling sound. After visiting a site about Basenjis and hearing their special voices, I tend to think that the two breeds must have something in common. I remember a friend of mine once thought that she was growling at him, when in fact she was giving him a very hearty welcome.
Ronja is mother to a litter sired by Zarvo's American Wind on the Road: two tricolour bitches and a tricolour male.
Breezy has stayed.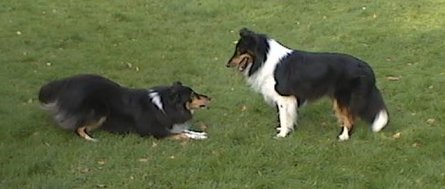 Ronja & daughter Breezy playing
June 1st, 2008 Ronja celebrated her 15th birthday. She is wonderfully fit for her age. Nose has greyed and hearing is not what it was; but otherwise she is rather remarkably fit in my opinion. She is eager to go for walks and for playing or training. Not even on our longer walks does she show signs of fatigue. She truly is a reason to rejoice. For her birthday I made a little slideshow of photos. All the first ones were taken two days before her 15th birthday. I think she is beautiful, and I am very grateful to her breeder, Bianca Rosenkilde of Zarvo shelties, for my gorgeous girl. I feel so lucky to have Ronja in my life. She has blessed me with so many memorable moments.