SP1

Lovely Luna von den Rethörnchen

Sable bitch

Born 20.05.00




Pedigree
Luna was bred by Karin Pfaff in Germany. I cannot thank Karin enough for entrusting me with this precious little girl.
Luna and I have a special history. Karin and I became friends back in 1999 because we are both keen agility enthusiasts and sheltie breeders. We have spent many happy hours talking shelties. When I got to know Karin she had two sheltie girls, a mother and daughter, Bubbles and Josie. Both were excellent agility dogs. My very good friend, Tina Jørgensen, was thinking of getting another sheltie at that time. I suggested she ask Karin if she would repeat the mating that had produced Josie. Karin did, and in due time Tina and I visited Karin to pick out Tina's puppy. I tested the litter of three bitches. My favourite was Luna. She was the one I would pick, I told Tina. Luckily, Tina had fallen in love with one of the other bitches because Karin wanted to keep Luna herself. All was well.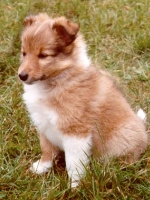 February 2002 Karin made the difficult decision to find new homes for her shelties due to personal circumstances. She asked me if I knew of a good home for Luna. I slept on it, and then knew that I should offer to make my house her new home. I had always thought that my next sheltie would be a Breezy daughter, but fate had something else in mind: Luna!
I knew that Luna had lived her first two years in a setting much like the one she would experience at my house, so the change should not prove too difficult for her or me. Luna has fully lived up to what I saw back when I puppy tested her. The trip from her old home to her new and finding her place in the new pack gave me a great opportunity to observe her temperament. I am very impressed with her behaviour. She is so level-headed. When facing an unknown and therefore potentially dangerous situation, she stands calmly and susses things out before making her next move. There is no mad rushing about or panicking. She really has excellent survival skills. Walking or even worse running straight ahead into an unknown situation could be fatal and so could intense fear reactions with bolting blindly the other way. Someone once told me that what you want in a sheltie is hypersensitivity but NOT hyperreactivity. They should think before they act. Watching Luna's response to having left everything she knew behind, I saw exactly what was meant.
I knew that Luna already loved agility, and she has proved such fun to train. She works with a wonderful concentration and such sheer joy. She is positively grinning from ear to ear when agility is the game.
What I was curious to find out was if she had herding instinct. I took her along when working with Breezy. Luna was definitely interested in what we were doing. The first try was on sheep in a small round pen. She did not turn on to them. Probably not enough movement for her because she has since proved to be a keen herder on loose sheep. It is early days yet but the instinct is certainly there. She heads them consistently and controls them beautifully. The sheep are just a little annoyed at present because she doesn't let them go anywhere: "What exactly do you want, little dog?! Not this way, not that way. What DO you want?" I can hear them say. So next step is to teach her to drive the sheep.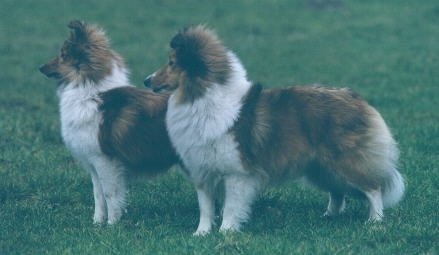 In the foreground: Luna's mother, Bubbles
In the background: Luna's older sister, Josie
I had to part with my darling Luna because Breezy refused to accept her after Chaya was born. First, I asked Karin if she wanted her back. But her circumstances were still such that she couldn't take her. So Luna went to live with my mother and Rea, whom she already knew well. No need for another major change in her life if avoidable. The transfer was a great success. Everyone was now happy, but it broke my heart to part with her. She was such a character.
Unfortunately, sweet little Luna one day ran out through an open gate at my parents' home and was hit by a car when running across the street. My mother was devastated. And my heart was broken all over again. Rest in peace my little one.
The really scary thing is, her mother died the same way also at just 4 years of age, when Luna and her littermates were 4 weeks old.
---