USACH CANCH DKCH

Rosewood's U.S. Marshall

Bluemerle han

02.04.86 - 26.03.97

Stamtavle
Marshall blev opdrættet af Rosemary Petter (Rosewood Shelties, USA).
Bianca Rosenkilde (Zarvo Shelties) importerede Marshall i 1990. Marshall blev tit placeret som Bedst i Racen, og han føjede hurtigt det danske championat til sit amerikanske og canadiske. Han var Årets Sheltie i Danmark i 1991.
Marshall har brændt sig fast på min nethinde. Hans bygning og bevægelser var ganske enkelt i særklasse. Første gang jeg så ham svæve rundt i udstillingsringen, fik jeg gåsehud af lutter fryd. Jeg er usigeligt glad for, at jeg fik fornøjelsen af at opleve så meget skønhed med min egne øjne.
Marshall blev testet fri for CEA og PRA. Hans hofte-status var A1 (det bedste).
Marshall er morfar til Ronja (Zarvo's Reason to Rejoice), og farfar og oldefar til Breezy (Shetla's Boisterous Breeze).
Her er nogle dommerudtalelser om Marshall:

04.11.90 Birgitta Svarstad, Sweden: 'Exceptionally well-moving sheltie, wonderful construction, perfect size'; awarding him his third certificate and Best of Breed.

09.03.91 Christine Aron, UK: 'Correct for size, good bone, well made with especially well-placed shoulder and nice reach of neck.'

09.06.91 Kari Nylén, Norway: 'Lovely masculine head with a beautiful expression and correct ears, good strong bone, good neck, lovely chest, good build and angulation, beautiful coat, moves beautifully'; awarding him Best of Breed.

17.08.91 J. Hayward, Australia: 'Nice head and expression, good ears, good coat, good colour, good build and good angulation, moves well, good temperament'; awarding him Best of Breed.

08.12.91 Charlotte Høier, Denmark: 'This dog doesn't trot, he floats. Anatomy of such quality that you would think the standard was written with this dog in mind. Words fail me to describe his construction. That his head is lacking in sweetness and is on the coarse side, is easily forgiven.'; awarding him Best of Breed.

---
Am/Can Ch Sundowner Mr. Bojangles CD ROM
Am/Can Ch Rosewood Texas Blue Horizons
Ch Forever Pawthorne Blue Eclipse
Am/Can Ch Rosewood's MT Blue Sheriff
Am/Can Ch Rosewood Pow-er Pumpkin
Rosewood's Satin Sassie
Shariton Jody's Lady Polite Am/Can CDX TD
Am/Can/DK Ch Rosewood U.S. Marshall
Ch Sea Haven The Sorcerer
Ch Sea Haven The Flying Dutchman
Am/Mex Ch Rosewood's Dutch Treat
Rosewood's Velvet Rose
Shawn Dar-Amstad Bi Partisan
Rosewood Mocha Merrilee
Rosewood's Make No Mistake
En af de indflydelsesrige hunde i Marshall's stamtavle, med en 2.63% andel i hans indavlskoefficient på i alt 7.19% og en blodprocent næsten svarende til en bedsteforælder (24.41%), er CH Cherden Sock It To 'Em ROM, kaldet Pow. Jeg blev derfor glædeligt overrasket, da jeg opdagede en amerikansk side skrevet af en garvet opdrætter, der kendte Pow personligt: Dana Quinney (Clan Duncan Shelties). Det er morsomt at læse om hans personlighed og spøjse særheder.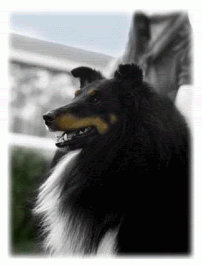 Foto: Dana Quinney (Clan Duncan Shelties)
My Breezy har afgjort arvet hans store begejstring for vand.
---