Ergo is from Breezy's second litter. He has five siblings.
Ergo is owned by Tina Mette Jørgensen.
His first puppies are on the ground. Born March 6th, 2008. This litter indicates that he is genetically clear of CEA like his sire Frisbee. The mother of the pups is affected, but all pups tested clear by veterinary examination aged 7 weeks.
So far Ergo has sired three litters. All pups have tested clear. All matings have been natural.
His fourth litter is expected around Easter. It will be exciting to see if he will make 4 times 4 (previous litters have all contained four puppies).
Shows 2009
DSSK Ørbæk, 21st March:
Malcolm Hart, UK: Excellent, open class no.1, Best Male no.2
Shows 2008
DSSK Præstø, 24th May:
Dina Korna, Estonia: Excellent
Shows 2007
DSSK Hjerl Hede 19th-20th May:
Saturday, Tom Wall, Ireland: Excellent, open class no.2, Best Male no.2
Sunday, Aileen Speding, UK: Very good

DKK Vejen Jubilee Show 11th-12th August:
Saturday, Hans Erik Pedersen, DK: Excellent, open class no. 1, Best Male, CC, BOS, Jubilee Winner
Sunday, Anthony Kelly, Ireland: Very good, open class no.4

DKK Brøndby 15th September:
Kurt Nilsson, S: Good

DSSK Karlslunde 18th November:
Gro Berg-Johansen, N: Excellent, open class no.2, Best male no.4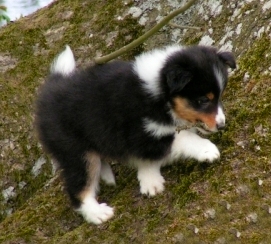 ---
Tested for inheritable eye disease:
10.05.2005, vet Mogens Aalund: Ergo free from CEA (no sign of inheritable eye disease).